(!) THIS CONFIGURATION REQUIRE PREMIUM PLUGINS
Make your laborer job easier using these amazing robots, this setup provides a nice and simple layout to have a nice presentation, variety of skins, improvements, and more. Show off your amazing minions across the server!
✧ X90 SKINS | This configuration contains 2 skin packs, 45 for each pack:
ADVENTURE TIME

SUPER MARIO BROS

POKEMON

KIRBY'S DREAMLAND

[NEW] AMONG US

[NEW] DRAGON BALL Z

[NEW] FALL GUYS

& MORE!
✧ CUSTOMIZED MESSAGES | All messages have a nice design
✧ CUSTOM MENUS | The menus are selective and very intuitive with an original design.
✧ ANIMATIONS | The minions come with a predetermined animation when performing their respective actions.
✧ X8 MINIONS | Amazing and configured minions.
✧ X10 UPGRADES | Improve your minion as much as you can, each minion has 10 upgrades.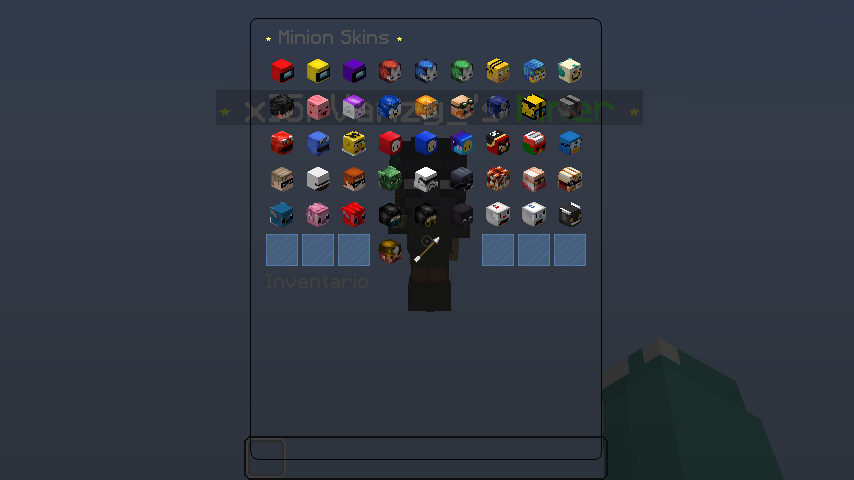 Skins Showcase

» GENERAL PERMISSIONS
minions.player.* - Gives them the permissions below

minions.player.rename - Allows them to rename their minion

minions.player.linkchest - Allows them to link a chest

minions.player.helpcommand - Allows them access to /Minions (although not needed)

minions.player.store - Allow access to /Minions store
» SKIN PERMISSIONS
minions.skins.* or minions.skins.<NameOfSkin>
You can't dispute/chargeback.

You can't resell this product.

Have you found an error? Do not give a bad review, inform me immediately to try to solve it.
» REQUIRED ➝ JetsMinions v6.9.8

 [PREMIUM]
Do you have a problem with the config? Need some help? Does the config have an error/bug? If something like this happens you don't have to give a bad review, join me and let me know your problem immediately and try to solve it!