NullCordX It's no form afiliated with mojang, we follow our Privacity & TOS
If u need support contact us on our Discord to gey solved any problem



NullCordX its designed to be LigthWeigth & Extreme on Secuirty and much more.






Features

:


» Used by

big networks of +1000 players without any troubles.
» 4 types of captcha

, blocking any type of bots (Fast, Slow, Medium, Bypass).
» Hook into AuthPlugins (jPremium & AuthMe/FastLogin), to fix exploits.


» Avoid fake-detections & Bypass bots
(Has never failed)
.
» Custom antibot, with a lot of checks &
integrated Firewall system
.
»
Extremely performant
, designed to work well with any system resources.
» "Disabled" Scoreboard/Bossbar packets for get more performance & less bungee load


» Improving
Base BungeeCord
, to reduce load on the proxy.
» We suport mods without any issue!


»
Fast support
& new updates when it's needed.
»
AntiVPN with private API
to avoid fake-detections.
» Hooks into
Paper/Any fork
to fix some random kicks.
»
Easy
to configure & extremely detailed.
» Works with
most of plugins on market
& fixes some
Geyser exploits
.
» Fix any Netty/Layer attack & Solve some DoS attacks
»PacketLoggs any type of attack & alerts instantly conected Staff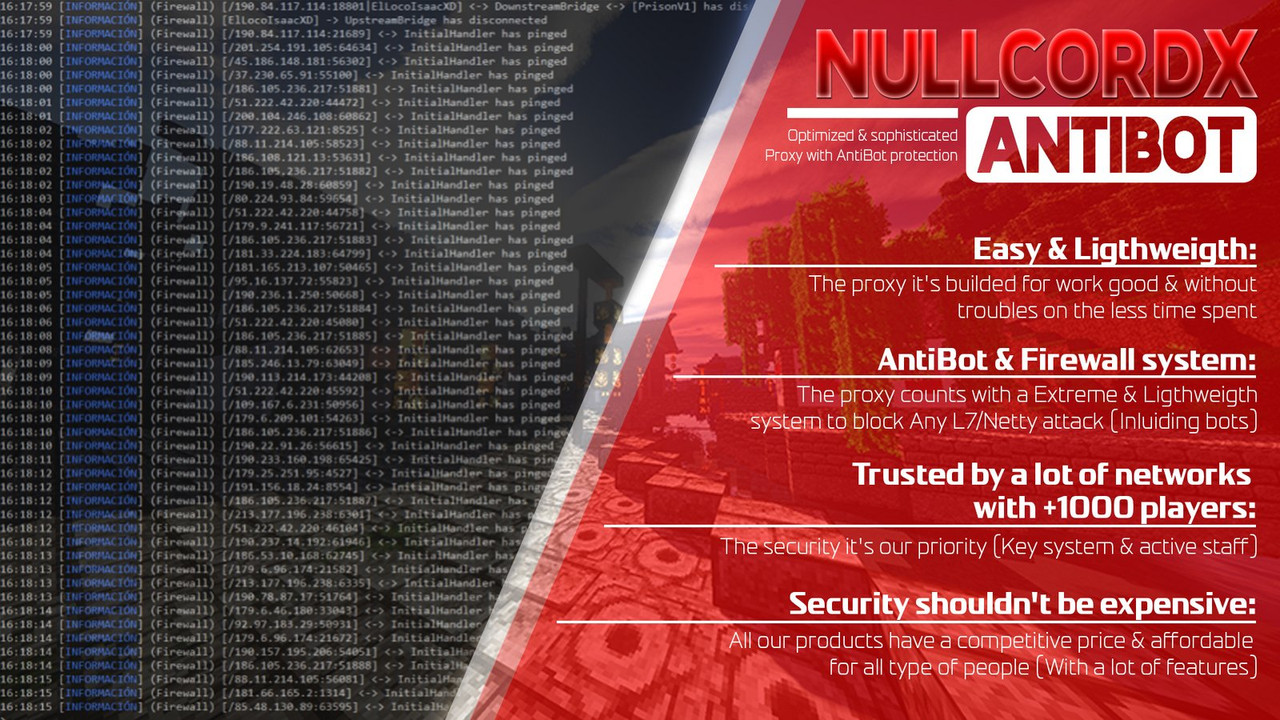 Also, we have Firewall rules, and u don't need to do NOTHING it will instally automaticly (This will improve impact on attacks & will be more easy to mitigate any attack.
ANTIVPN & PRIVATE API
NullCordX have an advanced AntiVPn api with Premium sockets & GEOIP solutions to deny any probabilty of get detected by AntiVPN system
EXTREME OPTIMIZIED
We "removed" some useless packets like scoreboard/bossbar team, don't worry this will not break ur scoreboard (Only we're handling packets once received from Client/BungeeCord to spigot)
That way we get ride of those packets, also we improved BungeeCord base.

Btw ty Lew_X for the idea. 
And not only security it's our priority, performance too we have improves on BungeeCord & we are based on waterfall to have the bet & fastest system as possible.
Still not trusting?
U can test all our products on the official Server-Test of ShieldSupport, any kinda type of attack it's
permitted (All it's base configuration, and we use only Firewall system integrated on NullCord-Config)
Also, if u are interested to be partner of us contact me (xIsm4 $avage#9127)